Our Partnership with Goodweave
Laguna Rugs are proud sponsors of global charity GoodWeave. This non-profit organisation's mission is to end illegal child labour in the rug industry, which unfortunately is still rife in South Asia. GoodWeave offer educational opportunities to the children in these poorer countries, designed to illuminate the problems of slave labour and to give each generation a chance at an education. Since its conception in 1994, GoodWeave have rescued over 3,000 children from working the looms, and prevented many more from entering the factories at all.
Of those minors who have been rescued, they have been reunited with their families, or taken to live in a sponsored rehabilitation centre. Laguna Rugs believe that no child or adult should face impossible work conditions and we are proud to be part of GoodWeave and we donate a worthy percentage for every rug purchased.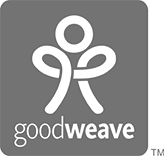 To learn more visit www.goodweave.org
Image: © U. Roberto Romano, courtesy of GoodWeave USA.